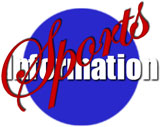 Cycling
---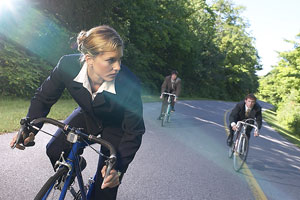 The sport of cycling involves riding a bicycle for recreation or competition. Competitive cycling variations include road, mountain, and BMX. Road races are the most popular form of cycling competition, and there are several forms of road racing, including stage races, one-day events, time trials, and criteriums. At the Olympic level, USA Cycling is the official cycling organization recognized by the United States Olympic Committee.

Stage races cover many miles and may last for weeks; each day is referred to as a "stage." Perhaps the most well-known stage race is the Tour de France, covering roughly 2000 miles over a 25 to 30 day period. The cyclist with the lowest cumulative time wins the overall race. A one-day race can cover 100 to 175 miles and may last from four to seven hours. The World Championship road race, the Olympic road race, and the Paris-Roubaix are examples of well-known one-day races. Time trials require the rider to cycle as fast as possible from one point to another. A criterium race involves multiple laps on a looped course, often in downtown areas where spectators gather to cheer on the riders. Bicycles used for road racing are lightweight and aerodynamic with a short wheelbase for optimum speed and handling. They feature frames built of steel, aluminum, titanium, or carbon fiber, as well as curved handlebars, thin high-pressure tires, narrow saddles, brakes, and a front and rear derailleur with up to 20 different gear combinations.

Track races are held in enclosed or open-air stadium-like arenas called velodromes, which contain an oval track constructed of wood or concrete with steeply banked corners. Track racing is the primary type of Olympic cycling competition, including the match sprint, individual and team pursuit, kilometer time trial, and points race. Bicycles used for track racing are similar to those used in road racing, except that they lack brakes and have no variable gear mechanism.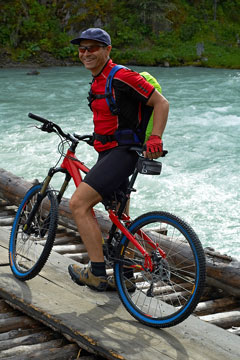 Off-road mountain bike racing is a rapidly growing sport which was started in the early 1980s by cyclists in Marin County, California. Cross-country, downhill, downhill slalom, and hill climbs are types of mountain bike races, with national and world championships held annually. Cross-country mountain bike races debuted as an Olympic sport at the Summer Games in Atlanta, Georgia in 1996. Mountain bikes feature sturdier tubing, straight handlebars; wide low-pressure knobby tires, up to 27 gears, and front suspension, rear suspension, or both for maximum shock absorption.
BMX, or bicycle motocross racing, began in California in the late 1960s as an imitation of dirt bike motorcycle racing. BMX racing involves an indoor or outdoor dirt track between 700 and 1300 feet long featuring ramps, hills, and tight turns. BMX bikes feature small wheels and frames for easy maneuverability, as well as high handlebars and knobby tires for maximum traction. BMX bikes are usually single-speed, using either hand (also caliper) or rear coaster brakes.
Whether for competition or personal recreation, cyclists also need basic equipment including helmets, padded gloves and shorts, and special shoes which may or may not clip into the pedals. Goggles, face guards, chest protectors, and arm and leg pads are utilized by BMX riders and downhill mountain bike riders.
Cycling Information Resources
---
Copyright © 2007-2023 Sports-Information.org.
All rights reserved.
About Us
.
Cycling History and Information Guide